BEAT THE HEAT THIS FEBRUARY
Beat the heat this summer with our range of external blinds from Bartlett Blinds. Australian designed and made to provide simple yet effective heat reducing protection from our harsh summer sun.
Choose from traditional awnings, straight drop crank blinds, the ever popular Ziptrack or sophisticated and automated wire guided blinds. They all come with traditional or contemporary stripes or mesh fabrics that keep the heat out but the view in.
Call our Parry St Showroom on 4940 8335 or complete the form below for an appointment for advice and an estimated quote.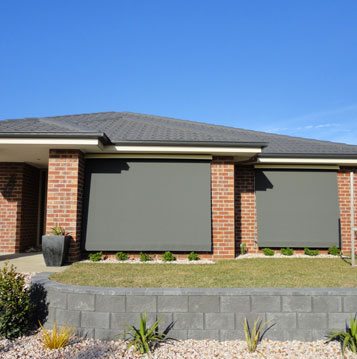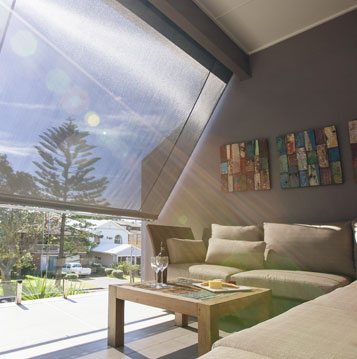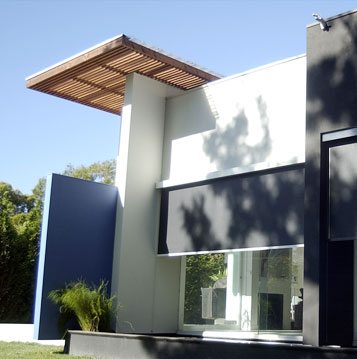 Window shading external blinds from Bartlett Blinds.
Traditional Awnings
Traditional Awnings are sometimes called "automatic" (spring loaded) window awnings, and have been around for as long as the sun has been shining on our homes. Think of the striped canvas awnings on our grandparent's homes. They are very effective and give excellent heat reduction in an affordable and uncomplicated form that is time tested.
Straight Drop Blinds
Invigorate an outdoor area with straight drop blinds. Entertain, play, relax. Straight drop external awnings create a cosy and welcoming outdoor environment, protect your deck from the weather and retain your view. The slimline appearance of straight drop blinds means they are barely noticeable and sit almost flush with the wall they are attached to. When the awning is put away, the fabric retreats into an enclosed headbox that protects it from rain and harsh sun.
Wire Guided
Exterior roller blinds give a refined finish to your windows. A wire guide blind enables easy height adjustment, while channel guided blinds work well in higher wind areas and offer good weather protection. Add automation and weather sensors for the ultimate in laid back style.
Exterior surround blinds can also extend your seasonal deck use. One of the most popular options is Zip track, a recognised Australian brand that has successfully enclosed our verandas for many years.
Showroom
Showroom
154 Parry Street
Newcastle West NSW 2302
Telephone
02 4940 8335
Email
hello@classicblinds.com.au
Facebook
facebook.com/classic.blinds
Receive your special offer
More than just fantastic window coverings
Uniquely helpful
We'll take you through the options to suit you, your home and your family. Share advice, expertise and our experience helping many customers over the decades with choosing and installing beautiful and practical window treatments.
Colour consultant
Need help with choosing the right colour palette to match the decor of your home. Book an appointment with our interior designer Ana.
Have a coffee on us
There is nothing better than discussing colour, style, function of window coverings over a coffee. Come and visit us at our showroom and we'll shout the coffee. We also have an activity corner for the kids to enjoy.
Find us at the following locations
Shopping centre displays
Classic Blinds and Shutters are currently displaying at the following shopping centres: Salamander Bay opposite Woolsworths, come and say hello
Visit a display home
Classic Blinds and Shutters have our window coverings displayed at the following display home locations: Display Homes
Yarrum Merewether
Yarrum Huntlee
Yarrum The Vintage
Hillman Homes Cameron Pk
Chisholm