OUTDOOR PRIVACY SCREENS
An outdoor space is great for entertaining or relaxing, or it might be the kids' favourite place to play. To make the most of your outdoor space, privacy is important too. Classic Blinds & Shutters privacy screens are a simple option to maintain privacy, create shade and provide an outdoor area that can be enjoyed in comfort. Visit our Parry St Showroom where one of our friendly consultants can help find the best option for your home.
Select a product category below to browse our full range.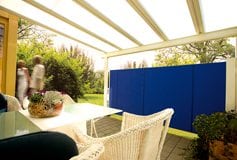 Outdoor Sideline Blinds
Find us at the following locations
Shopping centre displays
Classic Blinds and Shutters are currently displaying at the following shopping centres: Salamander Bay opposite Woolsworths, come and say hello
Visit a display home
Classic Blinds and Shutters have our window coverings displayed at the following display home locations: Display Homes
Yarrum Merewether
Yarrum Huntlee
Yarrum The Vintage
Hillman Homes Cameron Pk
Chisholm