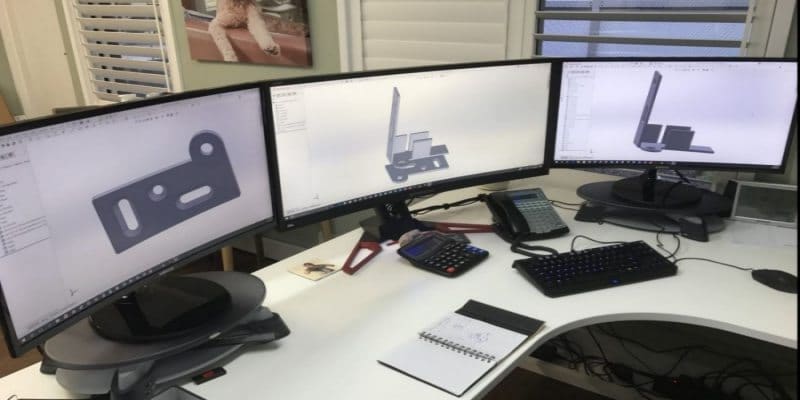 In an industry that is rapidly changing and experiencing continual improvement, the demand for innovation is incredibly high. At Classic Blinds and Shutters, we realise the importance of improving our own designs to ensure that our products are of a high quality and are competitive by industry standards.
Our Managing Director, Stephen, is continually modifying existing designs, producing new prototypes and looking for different ways to improve. Early last year, we purchased a 3D printer to assist with our product development and it has become extremely valuable when testing product features.
For example, Stephen has recently designed elliptical rails for our locally made plantation shutters whilst also creating new guides for the saws in our Factory in Cardiff. Not only does this improve existing features, but it also enables the development of new products. Innovation and design shapes us as a business – it allows us to grow, expand our range, refine our products and provide more options for our wonderful clients.
If we didn't create prototypes, rigorously test our products and commit to growth as a business, we would not be able to provide the level of quality and service we do.
Visit our Showroom in Parry St, Newcastle to see our latest designs. While you're there, enjoy a consultation with one of our Showroom Assistants who will assist you in finding the best option for your home. Alternatively, organise a free quote today and one of our friendly sales consultants will come to your home in the Newcastle, Lake Macquarie, Maitland, Hunter Valley and Port Stephens region.
Find us at the following locations
Shopping centre displays
Classic Blinds and Shutters are currently displaying at the following shopping centres: Salamander Bay opposite Woolsworths, come and say hello
Visit a display home
Classic Blinds and Shutters have our window coverings displayed at the following display home locations: Display Homes
Yarrum Merewether
Yarrum Huntlee
Yarrum The Vintage
Hillman Homes Cameron Pk
Chisholm